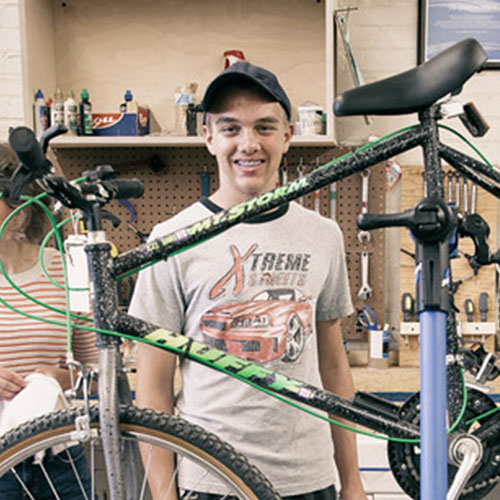 Impact Stories

From Wrenching Bikes to Electromechanical Engineering
Meet Tyler. He's one of our first Earn-a-Bike graduates, a student at Thaddeus Stevens College of Technology, and one of the kindest people you will ever meet.
Tyler's biking story is familiar and relatable. One day, he was on bike ride with a friend, Isaiah, who had borrowed his sister's bike. Isaiah accidentally broke a pedal on Tyler's sister's bike, which he was then responsible for fixing. Thankfully, a new community bike center had opened up across the street from Tyler's house. He stopped in and met our founder, Chris Caldwell, who encouraged him to sign up for our Earn-a-Bike class.
Earn-a-Bike was just the beginning of Tyler's involvement with The Common Wheel. A week after he graduated from the program, he volunteered with the next class, learning even more and imparting the wisdom he already had.
In his spare time, Tyler could usually be found tinkering around on bikes or volunteering his time with us. He was hooked! "The basic skills I acquired during Earn-a-Bike were growing as I learned something new each day working on bikes at the shop."
With the growth of Tyler's skills and his dedication to the bike life, we knew that he would be a great addition to our team. Tyler was our first-ever part time hire. We watched him develop from a gangly teenage to a responsible young adult over the past three and a half years.
We've seen him gain the confidence he needs to assist customers, and bring a sense of calm to the energetic students during the Earn-a-Bike class. Tyler is one of our top technicians, and we are excited that he is taking his training to the next level.
In fact, he is currently spending his senior year of high school at Thaddeus Stevens College of Technology where he is studying Electromechanical Engineering. But don't worry, Tyler can still be found around the shop wrenching on bikes and transforming his community through his love of bicycles.
Here's what Tyler has to say about The Common Wheel's impact on his life: "Today I rode one hundred miles. I paused to reflect on everything that brought me to this achievement. The Common Wheel was involved in every step, from the bike I built myself and rode, to the strength of my legs. I would never have discovered my love for bicycles without The Common Wheel."
(All the quotes in this story are taken from an essay Tyler wrote for his English class at Thaddeus Stevens. Naturally, he got an A.)