About The Common Wheel

Our Story
Since summer of 2014, The Common Wheel has been devoted to promoting biking and bike culture in the Lancaster community. In just a few years, we've impacted hundreds of lives through our classes, programs, and events. And, we're just getting started!
Our Story
Way back in early 2014, our co-founders, Brad Copeland and Chris Caldwell had a whole lot of passion for biking and an early concept for The Common Wheel. Brad, a bike mechanic, and Chris, the self-proclaimed "big picture guy," were inspired by Jeff Maples' 2009 book, Pedaling Revolution: How Cyclists Are Transforming American Cities, which introduced them to the "community bike shop" model. After researching and being further inspired by community shops like Portland's Community Cycling Center and Seattle's Bike Works, they decided to take the plunge. The first step, finding a location!
Our first home was once an old, abandoned pump-house in Reservoir Park on the east side of Lancaster City. The circa-1918 building was closed after the city reservoir was no longer being used in the 1950s. It was piled with sinks, roofing materials, and other items being stored behind boarded-up windows. The interior renovation and transformation of the 1,100-square-foot-space were into The Common Wheel community bike center, where both youth and adults learn the basic maintenance and riding skills necessary to make cycling a part of everyday life.
After several years of operating classes, programs, repair services, and sales out of the original pump-house location, we finally recognized the need to expand to continue fulfilling our mission. In the winter and spring of 2018, we began building out our second location, a retail and service shop located on 324 North Queen Street. This new location is designed to be a hub for bike culture right in the heart of downtown Lancaster City.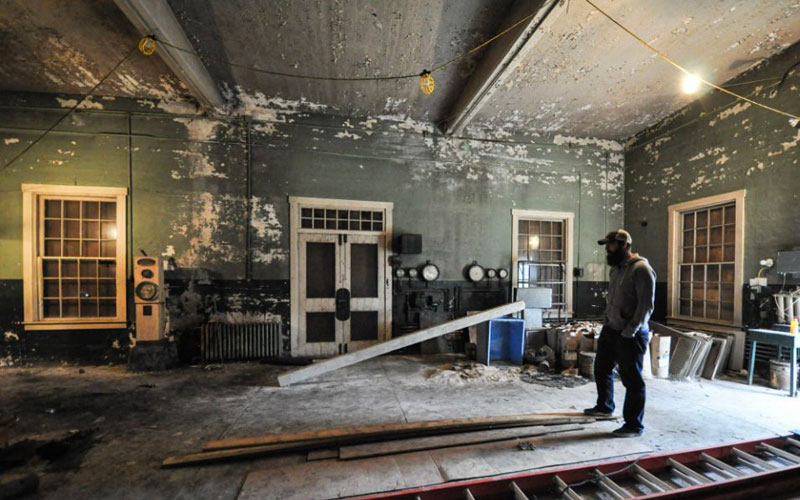 <! ========= Cool Timeline Free 2.7 =========>
Our History
Creating A Platform For Bike Advocacy
One of the first meetings that was held in the Pump House, was for The Coalition for a Bike Friendly Lancaster, or as it is now known, Lancaster Bikes! This organization is made up of a bunch of bike friendly businesses, people, and groups who are dedicated to making Lancaster a premier city for cycling. Through advocacy and education Lancaster Bikes! strives to make an impact on the health of our city.
Taking Home Great Social Enterprise Pitch
Winning over the judges and the crowd, The Common Wheel took home over $5000 in cash and other in-kind prizes. Even more valuable was the news coverage of the event, that allowed us to burst onto the Lancaster scene.
Slow Ride Lancaster Is Born
The Common Wheel's staff called together an informal meeting to discuss creating a mass bike ride that would bring attention to the biking movement in Lancaster. From this meeting, Slow Ride Lancaster was born, with social rides taking place every fourth Friday. An entity all of its own, The Common Wheel supports Slow Ride simply by joining in the fun. 
Our First Ever Extraordinary Give
In 2015 we took part in the Lancaster County Community Foundation's Extraordinary Give for the first time. With a push to be one of the first organizations with 50 unique donations, we were excited to see our name at the top of the leaderboard. Blowing away our goal, we made double the amount we had hoped for. We've continued to win the Early Bird Special in the following years, making our name known within philanthropic circles.
Launching Our Annual Holiday Bike Drive
We launched our Holiday Bike Drive in conjunction with Santa's Spokes, giving away 60 bikes to deserving children in the School District of Lancaster. Each year, we continue to give away over 100 bikes to elementary students within SDoL.
Launching Our Bikes For All Program
In 2016 we began the Bikes For All program, serving low-income individuals and refugees who aged out of our Earn-a-Bike Program. The Bikes For All Program removes financial barriers to bicycling. We provide affordable bikes and repair services that allow people to rely on their bicycles, save money, get active, and gain freedom and flexibility in their everyday lives. Working with partners such as Church World Services, Transitional Living Center, and Tabor Community Services, we are able to provide 35+ bike packages to individuals in the Lancaster Community.
Awesome Bike Infrastructure Changes
2017 brought a slew of changes to the City of Lancaster and bike infrastructure. The City, with support from Lancaster Bikes!, installed over 10 miles of bike lanes throughout Lancaster. Additional infrastructure is in the works thanks to the City of Lancaster and the County of Lancaster's Active Transportation Plan.
2017 Winter Chill Is A Smash
In December 2017 we teamed up with the Lancaster Creative Factory, Shumaker PDT, and Troëgs Beer to bring the Winter Chill event to Lancaster. At this annual fundraising event, we celebrate bikes, our community impact, and our supporters while also raising funds that support our programming. (How do you know a good party when you see it? Dozens of people dancing under a rotating chandelier of bikes while drinking fantastic brews.)
New Second Location Opens on Queen Street
The Common Wheel opened a second location on the 300 block of North Queen Street. The new location provides extended sales and service, and will also serve as a hub for bike lovers, hosting lectures and social events. All of the money earned from the new space goes directly into funding our programming.
More About The Common Wheel