About The Common Wheel

Meet Our Team
We're a passionate team of bike-enthusiasts working to inspire, educate, and empower others to ride bikes and live happy, healthy, and environmentally-conscious lives.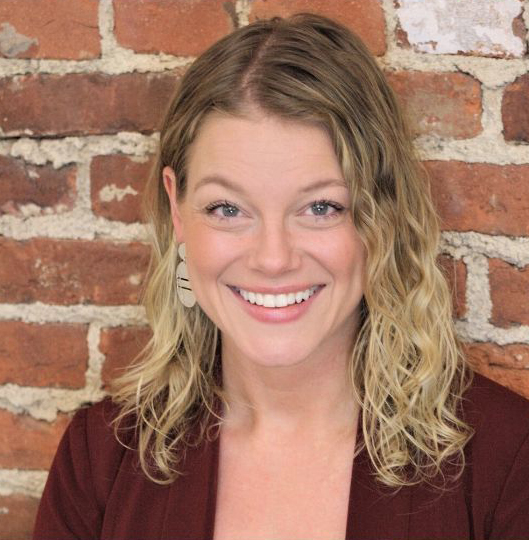 Amy Giangiulio
Executive Director
A native of the Philadelphia suburbs, Amy Giangiulio is proud to call Lancaster her home. After receiving a Bachelor of Science degree from Millersville University, Amy quickly fell in love with the area. Amy has more than a decade of experience in the Marketing and Communications field. Amy managed Marketing and Communications for VisionCorps, an organization that for 90 years, has helped restore independence to Pennsylvania residents who are blind or vision impaired. Prior to VisionCorps, Amy worked in Communications and Public Relations for local organizations like Godfrey and Lancaster General Health. Amy has volunteered for organizations such as Humane League of Pennsylvania, Lancaster Central Market, Lancaster Chamber of Commerce Young Professionals Network, and Lancaster City Alliance. She has served on the Board of Directors for organizations like Susquehanna Sustainable Business Network, YWCA Lancaster, and the Ambassador and Champions board of Girls On The Run. Amy is passionate about animal advocacy, women's advocacy, and sustainability. On weekends, you can find her supporting local businesses, frequenting Central Market, and exploring the outdoors on her single speed. Amy currently resides in Lancaster with her husband Dan and their two rescue dogs, Bowser and Tucker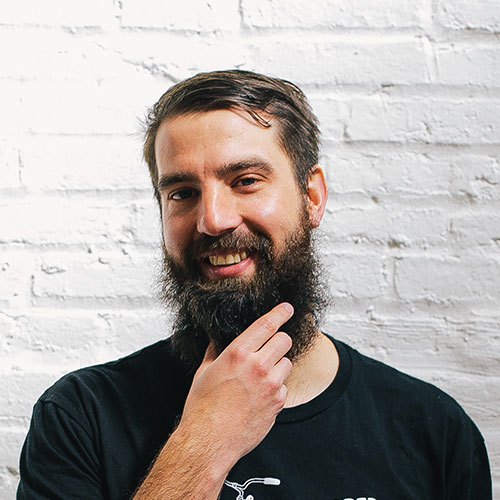 Chris Caldwell
Founder & Executive Director (2015-2020)
Chris, a lifelong resident of Lancaster, is an avid proponent for bicycling as an alternative transportation option. In between traveling, being a ski bum, and working construction, Chris spent a lot of time using his bike to get around the city. He became interested in the growing cycling movement and wished to help it grow here in a concrete, hands-on manner. After learning about the community bike shop model, he researched starting one in Lancaster. Chris was responsible for designing and implementing programs and events, raising funds, and building relationships in the community. He also loved getting his hands dirty as he learns more about wrenching bikes!
Read more about Chris's involvement in starting The Common Wheel »
Job Openings
We are a community bike shop run by a small team of young, hard-working people. Here is what we stand for:
We're for making a positive impact on our community and culture

We're for building a kick-ass urban bike community in our special little city

We're for helping people realize their dreams on two wheels

We're for providing employment training and job opportunities to the underserved youth in our city

We're for building awesome bikes, providing impeccable (and friendly) service, and selling great products that improve people's experiences

We're for facilitating all of those small, magical moments that bikes can create
There are no current job openings.
[ Accordion Closer - Hidden ]
Zach Love - President
Zach
 works for Union Community Bank helping local businesses with banking solutions. He volunteers with the Lancaster Chamber's Young Professional Network, Leadership Lancaster, and helped co-found a volunteer project called Lancaster PATH. When 
Zach
 isn't training for a triathlon he enjoys cooking, traveling, and hiking. He believes the Common Wheel has the ability to unify a community and influence healthy behaviors.
Katie Walsh - Vice President
Katie Walsh is an experienced nonprofit development professional with a proven track record in advising fundraising strategies and bolstering mission effectiveness. As a nonprofit development director, through aggressive outreach on behalf of nonprofit and government entities, she has secured major federal and state grants in amounts exceeding $1 million. A business development specialist, she has launched multiple non-profit organizations and private companies. Katie has been a consultant and advisor to more than ten ventures. Katie has led graduate courses in strategic planning, business analytics, and leadership. Katie holds a master's degree from The University of Pennsylvania's School of Social Policy and Practice with a focus on nonprofit leadership and majored in entrepreneurship at Temple University.  
Above the professional jargon, Katie holds the mission of the Common Wheel close to her heart. An avid recreational cyclist, she was raised to ride on the streets of Lancaster City. Currently, she spends her weekends exploring rail-trails around the county and beyond. 
Travis Oot - Treasurer
Travis Oot has been an accountant with Trout CPA firm since January 2015. Originally from Syracuse, NY, Travis found his way to Lancaster after graduating from York College with a Bachelor of Science degree in Accounting. Travis has quickly immersed himself in the Lancaster Community through his participation in Leadership Lancaster, Lancaster Young Professionals, and by holding an advisory committee position in the Lancaster Chamber's Young Professionals Network. Aside from work and community involvement, Travis is passionate about living an active lifestyle. A 2018 finisher of Ironman Lake Placid, Travis found a love of cycling throughout his training process and other triathlons along the way. That passion for cycling and desire to give back to the community came together when he joined the Common Wheel board as treasurer in 2019. Travis looks forward to contributing to the success of this organization, and may even convince his wife Anna to get a bike…someday. 
Larry Keating - Secretary
Larry is retired from having spent much of his work life as a lawyer for Armstrong World Industries. He has been a community volunteer over the years for numerous community organizations, currently SCORE Lancaster Lebanon, The Janus School, and Leadership Lancaster, as well as being a founding board member of The Common Wheel. He has been an avid rider and bike mechanic for decades, whose crowning achievement was the ascension of Mt. Ventoux.
Emily Wilson
Emily Wilson is the Research Lab Manager and Technician at Franklin and Marshall College. Also an alumna of F&M where she graduated with a degree in Geosciences, Emily earned her masters of science from the University of Idaho, where she studied the geochemistry of volcanic rocks on the equatorial Galápagos Islands in the Pacific Ocean. Emily loves the outdoors and can be seen riding her Surly around Lancaster, or climbing rocks and practicing yoga. Emily also loves to garden and spend time with her partner Daniel and their dogs, Roux and Rokko.
[ Accordion Closer - Hidden ]
Anna Ranck
Anna has 10 years experience in sales, business development and community building for technical products and wellness brands. She is currently responsible for business development at Lancaster Farm Fresh where she is able to advocate for local farmers and share her passion for sustainability and food health. After spending the last 15 years living in Philadelphia and Brooklyn, she was excited to be a part of The Common Wheel's mission to build bike safety and accessibility in Lancaster. Anna enjoys spending as much time as possible exploring the outdoors, gardening and traveling with friends.
Laura Hatton
As a Lancaster native with an obsession, no passion……..no obsession for bicycling, Laura enjoys commuting to work several days a week. She is an experienced Risk Manager with an MBA, and has worked for Burnham Holdings, Inc. for 20 years. She loves social riding and solo rides though both Lancaster City and County. After being introduced to The Common Wheel though social rides, and learning more about the mission, Laura became a member of the Pump House Crew. Soon, spending time in the shop with Dan and Meagan became almost as addictive as riding, which led to volunteer hours in and out of the shop and ultimately membership on the Board. Laura served as Board President in 2019.
Stu Smith
Stu is a Senior Living Market Executive for Benchmark Construction. He loves spending time with his wife, Heather, and their two children, Stu and Elaina. In his spare time he enjoys listening to music, watching basketball, and riding bikes.
Stephanie Gromek
Stephanie works with the Church World Service (CWS) Refugee and Immigration Program in Lancaster, where she coordinates the development and communications responsibilities of the office. She has spent more than 10+ years of her career working with refugees and immigrants in some capacity—which is in fact, how she came into play with The Common Wheel 's Bikes for All program. Stephanie enjoys running with her dog, spending days in the sun with her daughter, and sharing new adventures with her husband. Taking a Sunday serendipity on a family bike ride is a favorite family bike time.
Savannah Thorpe
Savannah Thorpe was raised in Lancaster County and has been biking since she could walk. A graduate of IUP, Sav works as a ghostwriter at BrandYourself and a dorm parent at Linden Hall. Savannah supports the missions of advocacy, agency, and inclusivity that The Common Wheel promotes.
More About The Common Wheel