About The Common Wheel

Meet Our Team
We're a passionate team of bike-enthusiasts working to inspire, educate, and empower others to ride bikes and live happy, healthy, and environmentally-conscious lives.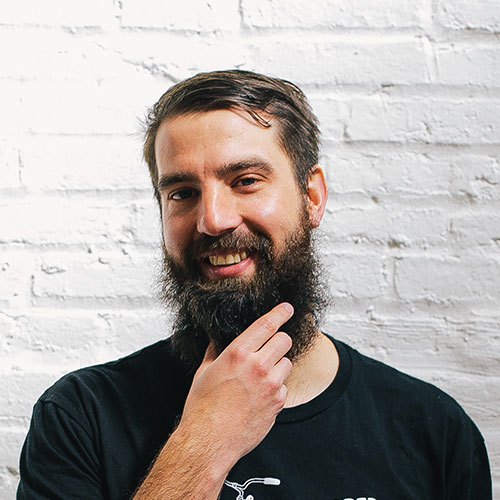 Chris Caldwell
Executive Director, Founder
Chris, a lifelong resident of Lancaster, is an avid proponent for bicycling as an alternative transportation option. In between traveling, being a ski bum, and working construction, Chris spent a lot of time using his bike to get around the city. He became interested in the growing cycling movement and wished to help it grow here in a concrete, hands-on manner. After learning about the community bike shop model, he researched starting one in Lancaster. Chris is responsible for designing and implementing programs and events, raising funds, and building relationships in the community. He also has been getting his hands dirty as he learns more about wrenching bikes!
Read more about Chris's involvement in starting The Common Wheel »
Mikhail Zapata-Rotz
Co-op Manager, since 2018
Mikhail knows how to do it all. As an experienced bike mechanic and trained welder, Mikhail's knowledge of the bike comes from years of training and honing his skills. Mikhail is happy to snuggle any cat that comes his way, and is a big kid at heart. Hailing from Annville, PA, Mikhail is happy to be living in Lancaster and helping to transform our youth through his favorite mode of transportation–the bicycle.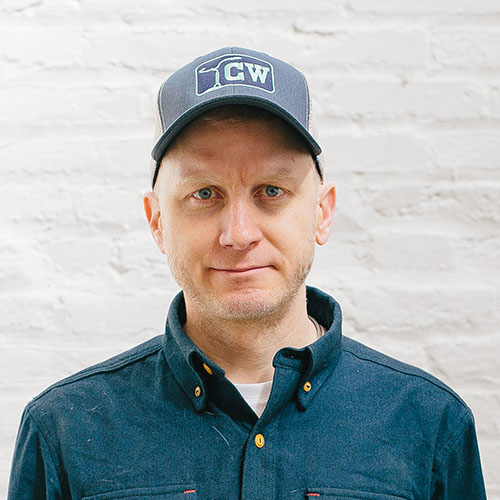 Ted Houser
Director of Operations, since 2018
Ted took his first overnight bikepacking trip at the age of six and has since been living life on two wheels. With bicycles and motorcycles at the core of his existence, he began commuting in fourth grade and has spent months of his life traveling with tents and panniers strapped to his bike. Ted believes that the bicycle is a simple answer to many of the world's challenges and is passionate about sharing the benefits of cycling with others. His personal beliefs, combined with a professional background in nonprofit and retail management, led him to The Common Wheel where he has joined the cause to make Lancaster the most bicycle friendly city in the East.
Job Openings
We are a community bike shop run by a small team of young, hard-working people. Here is what we stand for:
We're for making a positive impact on our community and culture

We're for building a kick-ass urban bike community in our special little city

We're for helping people realize their dreams on two wheels

We're for providing employment training and job opportunities to the underserved youth in our city

We're for building awesome bikes, providing impeccable (and friendly) service, and selling great products that improve people's experiences

We're for facilitating all of those small, magical moments that bikes can create
There are no current job openings.
[ Accordion Closer - Hidden ]
Laura Hatton - President
As a Lancaster native with an obsession, no passion……..no obsession for bicycling, Laura enjoys commuting to work several days a week. She is an experienced Risk Manager with an MBA, and has worked for Burnham Holdings, Inc. for over 18 years. She loves social riding and solo rides though both Lancaster City and County. After being introduced to the Common Wheel though social rides, and learning more about the mission, Laura became a member of the Pump House Crew. Soon, spending time in the shop with Dan and Meagan became almost as addictive as riding, which led to volunteer hours in and out of the shop and ultimately membership on the Board.
Katie Walsh - Vice President
Katie Walsh is an experienced nonprofit development professional with a proven track record in advising fundraising strategies and bolstering mission effectiveness. As a nonprofit development director, through aggressive outreach on behalf of nonprofit and government entities, she has secured major federal and state grants in amounts exceeding $1 million. A business development specialist, she has launched multiple non-profit organizations and private companies. Katie has been a consultant and advisor to more than ten ventures. Katie has led graduate courses in strategic planning, business analytics, and leadership. Katie holds a master's degree from The University of Pennsylvania's School of Social Policy and Practice with a focus on nonprofit leadership and majored in entrepreneurship at Temple University.  
Above the professional jargon, Katie holds the mission of the Common Wheel close to her heart. An avid recreational cyclist, she was raised to ride on the streets of Lancaster City. Currently, she spends her weekends exploring rail-trails around the county and beyond. 
Larry Keating - Secretary
Larry worked as a lawyer for Armstrong World Industries and two other Lancaster companies. He has served as a volunteer for numerous community organizations, currently SCORE Lancaster, The Janus School, and Leadership Lancaster. Larry has been an avid rider and bike mechanic for decades and once rode slowly up Mt. Ventoux.
Chuck Waterfield - Treasurer
Chuck worked for 30 years in international microfinance, living and traveling in 70 countries around the world. In the past eight years, he founded and ran a global consumer protection agency to expose the high prices charged to the poor on their loans. In 2000, he settled in Lancaster and considers it one of the great secrets in the world. His travel bike made it to five different continents. In recent years, his biking speed has slowed down, but he compensates by riding longer distances. He says that one convenience of this is that when you say "I rode 100 miles yesterday." people don't ask "How fast?"
Marla Stauffer
Marla is self-admittedly not an avid biker but she has seen the influence they can have on lives through her family of active cyclists and is excited to see the positive impact they can have on Lancaster. After working as a social worker in Chicago and spending 8 summers helping to direct a summer camp in Oregon, she returned to her hometown and has loved living in the city every since. She is currently the Director of Logistics at WebstaurantStore.com
[ Accordion Closer - Hidden ]
Zach Love
Zach
 works for Union Community Bank helping local businesses with banking solutions. He volunteers with the Lancaster Chamber's Young Professional Network, Leadership Lancaster, and helped co-found a volunteer project called Lancaster PATH. When 
Zach
 isn't training for a triathlon he enjoys cooking, traveling, and hiking. He believes the Common Wheel has the ability to unify a community and influence healthy behaviors.
Bernie Gallagher
Bernie believes bikes can be an incredible instrument of health and economic benefit to the community. He and his family love to get out on their bikes and explore the city. By day, Bernie is a Senior Budget and Policy Advisor at the State House of Representatives. He would like to think that his time living in Colorado riding burly single track gives him cred, but inevitably he runs into someone who's rode the same trails but on a unicycle.
Stu Smith
Stu is a Senior Living Market Executive for Benchmark Construction. He loves spending time with his wife, Heather, and their two children, Stu and Elaina. In his spare time he enjoys listening to music, watching basketball, and riding bikes.
Savannah Thorpe
Savannah Thorpe was raised in Lancaster county and has been biking since she could walk. A graduate of IUP, Sav works as a ghostwriter at BrandYourself and a dorm parent at Linden Hall. Savannah supports the missions of advocacy, agency, and inclusivity that The Common Wheel promotes.
Stephanie Gromek
Stephanie works with the Church World Service (CWS) Refugee and Immigration Program in Lancaster, where she coordinates the development and communications responsibilities of the office. She has spent more than 10+ years of her career working with refugees and immigrants in some capacity—which is in fact, how she came into play with The Common Wheel 's Bikes for All program. Stephanie enjoys running with her dog, spending days in the sun with her daughter, and sharing new adventures with her husband. Taking a Sunday serendipity on a family bike ride is a favorite family bike time.
Megan DeMarra
Meg has devoted her career to cause-based work for a number of local organizations and is currently employed by the Lancaster General Health Foundation. She sees The Common Wheel's mission as a double win – benefiting both people and planet, which inspired her to get involved. Meg enjoys biking to work and around the city, where she lives with her husband, Doug, and her beloved corgi. She's an avid traveler who finds great joy in experiencing new cultures and places. Her favorite bike memory is riding through the leafy island of Djurgården in Stockholm, Sweden.
More About The Common Wheel